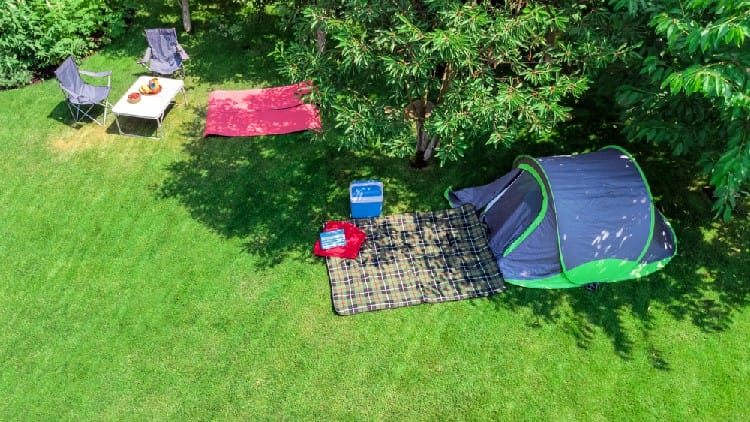 This Father's Day is bound to be a bit different from all others. Choices of things to do with your dad may be greatly impacted by COVID. And depending upon where you live may well determine how "normal" this year will be. But regardless, it doesn't mean you still can't make the day special for him. It certainly doesn't have to be boring nor does it have to be complicated.
We decided to help you out with a Father's Day Staycation that includes food, fun, and gift ideas that can apply to every dad no matter your level of shelter in place. And we're also including some meaningful ways to celebrate your dad this year that will only cost you some time…
FATHER'S DAY STAYCATION IDEAS
FOOD
Okay, Father's Day must start with a fabulous breakfast or brunch. We're suggesting this year that you support your local restaurants. If you're not comfortable actually eating at a restaurant, then grab take out. It will be greatly appreciated by the restaurant and its employees and probably mom, too, since she won't have to cook.
But, if you choose to stay in and make it yourself, it can be fancy or simple depending on your dad's taste. Just be sure to include at least one of his favorites and don't forget that Mimosa or Bloody Mary!
FUN
A good place to start when deciding fun things to do with dad is to focus on any hobbies/interests he has. If not, that's okay, because we have plenty of ideas he is sure to enjoy.
Take a care ride to get out of the house and go to a local park for a hike or bike ride or head to the beach or lake if nearby for a picnic. If possible, rent kayaks or paddle boards.
Set up a tent in the backyard and have a camp out. Don't forget to tell scary stories and make smores!
Set up your backyard with outdoor games like pingpong, croquet, bean toss, and whiffleball.
Set up your backyard for a picnic.
Let him go off for a few hours and enjoy his favorite hobby, like a round of golf which you book yourself or fishing or a bike ride.
If there are enough of you, do a play for your dad. Maybe take a scene from his favorite book or yours!
Visit local historic sites.
Conduct a scavenger hunt in the neighborhood and maybe get other families involved – being socially responsible of course.
Take a virtual experience. Visit National Parks, tour the National Gallery of Art, or swim through a coral reef, all without leaving your family room. Many organizations are now offering real life virtual experiences, so curl up with dad on the couch and travel the world.
Try picking up a new skill this Father's Day. With MasterClass's selection of expert lessons, the whole family can learn tennis from Serena Williams, French pastry-making from Dominique Ansel, or comedy from Steve Martin. If you're not in the mood to purchase a subscription, turn to YouTube for a tutorial on, well, pretty much anything. If you teach a man to fish…
Watch his favorite movie or an old sports game from his favorite team. See if you can rent a projector and screen and have a "drive-in" movie night.
Organize a wine or craft beer tasting.
And of course, what would Father's Day be without a barbecue.
Just in case it would rain, have plan B ready. Whether you're in the mood for a puzzle, a board game, or even charades, a quarantine-friendly activity will surely be fun for the whole family.
GIFTS
There really is no shortage of great Father's Day gift ideas. Again, start with any hobbies and interests and keep an ear out for a mention of anything he could use. Just be sure not to get him a tie!
Or better yet…In this time of great need across the world and in your own communities, why not make a donation to an organization in your dad's name that would have meaning to him or think about volunteering. There are food banks, animal shelters/rescues, social causes, etc. that need help and what better way to honor your dad. Here are some pay it forward ideas that include specific interests such as fishing and sports.
But, just in case you absolutely have to get away and are looking for an escape on the east coast, one of our absolute favorites is Weekapaug Inn in Rhode Island and its sister hotel, Ocean View. Dad will be quite happy, we guarantee it!
Quality Time
Actually sit down and spend time with your dad. Talk to him about life and find out how he is really doing right now. This could be a very tough time for dads with worrying about the health and safety of the family and job issues. If your dad is older, perhaps find out more about his life pre children. This can be done via zoom or FaceTime if you must.
Tell your dad verbally or in writing just how much he means to you and why. Be specific about a time he did something for you that had an impact on you.
If you're creative, use your artist, music, or writing skills to show him how much you care. Or are you better at photography? Take one of those family portraits sitting in your phone and have it framed or create a picture book unique to a family vacation.
Offer to do some chores or help him out with say a computer issue. You can even give him some coupons that he can cash in at a later date.
There are many things you can do with and for your dad that don't cost a penny, just your imagination and a lot of love!
HAPPY FATHER'S DAY!

Sherry is one of the TriWivesClub and LifeDoneWell co-founders and contributes to multiple blogs. She is a former co-owner of the California Apparel News and had a career in the healthcare industry. Her passions include traveling, real food, the environment, and animal rescue/welfare. She lives a healthy lifestyle and has been a vegetarian since 1987. She and her husband are parents to two rescue pups and reside in Connecticut.