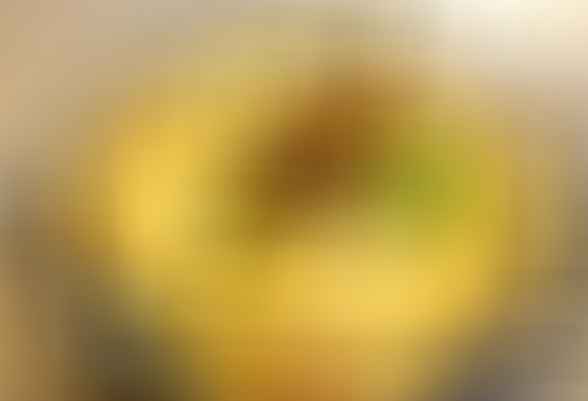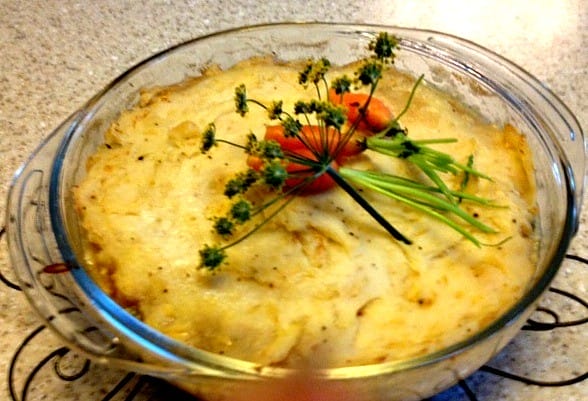 With the weather starting to turn fall-like, I started thinking about different dinners to begin serving in my house.  It's actually the first time it's just David and I, so I'll either have to plan different recipes or reduce portion sizes in the ones I have.  This one is one of my Moms and I love it!
 SHEPHERD'S PIE
Preheat Oven to 350.
Serves 4-6 people.
BROTH
INGREDIENTS 
1/2 celery root; cut away the tough outer edge and cut into cubes.
6 New Potatoes ( if you have them or Yukon Gold will do); I use one potato per person, but if they are small, consider your appetites.
Always remember size matters.  You should have equal amounts of potatoes and celery root.
Equal measures of vegetable stock and water to cover potatoes and celery root by one inch.
DIRECTIONS
Boil celery root and potatoes together until soft.
Drain well then mash with butter, vegetable broth, or milk as needed and then whip with additional vegetable stock to make a creamy puree.
Season with salt and pepper to taste.
PIE
INGREDIENTS
For the pie, consider the fall garden.  This time of year, zucchini and yellow squash are great to use and you can get them in abundance at your local Farmer's Market.  I would also use winter squash like butternut, turnips, and rutabaga.  I would par boil the harder vegetables until just tender.  Whichever vegetable you choose, cut it into cubes.
2 large carrots cubed and cooked in vegetable broth or water until barely tender.
2 celery stalks
1/2 sweet onion cubed
1/2 cup mushrooms ( variety is always interesting and tasty) chopped the same size as squash
1 cup cooked green lentils
2 cloves garlic
Fresh herbs to taste; basil, thyme, and parsley are all good
2 -4 tbsp. olive oil
Kosher salt and freshly ground black pepper to taste
DIRECTIONS
Saute the onion in olive oil for 3 minutes.
Add the celery and saute 1 minute.
Add the garlic and saute for one more minute.
Add the mushrooms and a little more olive oil and sauté 2 more minutes.
Add the lentils and squash, carrots, and herbs and toss together with the vegetable mixture.
Add 1/2 cup of vegetable broth to the mixture adding a little more if it seems dry.
FINISH
Put the vegetable mixture in an oven proof dish and pile high with the potato-celery root mixture.
Bake in a 350 oven until bubbly, about 35 minutes.
Serve with a nice garden salad of your choice and you have a perfect dinner for your family.
 – DANA
WHAT FALL RECIPES ARE YOU THINKING ABOUT MAKING AT THIS TIME OF YEAR?
I am a home cook that does things my way. In my kitchen, I make breakfast, pack lunches, prepare snacks, and cook dinner. During the week, we eat real food that is homemade, organic, and local. On the weekends we do explore more of our local restaurants. I bake my own bread, juice fresh oranges every other day, and make my own kombucha and other weekly favorites.