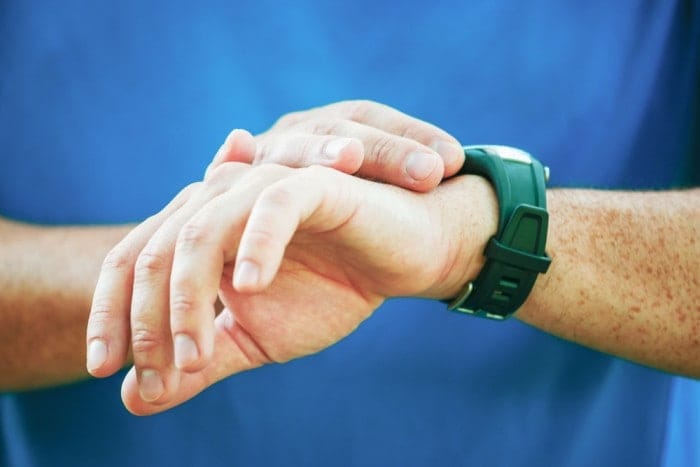 It is hard to believe that triathlon training season is actually here again. We were just writing about the joys of off-season, weren't we? But as all good things must come to an end, so must off-season. We're not feeling too sorry for ourselves, though, as there are pros and cons to both seasons. While we do enjoy the downtime activities, time together, and especially the sleeping in, we do love traveling to races, especially when it involves some place really good like Austria!
My triathlete actually took last season off, so there is also a newness to the training season this year and with it, more excitement. He's been doing a lot of reading and catching up on social media and talking to fellow triathletes about which races are on their calendars. Plus, he's had plenty of time to discover new trends in training, diets, and oh, all that new gear that he just has to have.
Considering he is a bit older and has been a bit lax for over a year and a half, we did have to think about what steps we'd need to take to ease back into the training and race season. Here's what we came up with…
5 Tips to Ease Back into Triathlon Training Season
Eat Right
The off season is best known in our home for cocktails and enjoying foods we really try to cut back on or avoid entirely during race season. While it's not a free for all, we are a lot more relaxed about what we put in our mouths. During in-season, things have to change for both of us – more so for my triathlete, of course.
Here's what we do to get back on track…
The first thing is to prepare the house by clearing out all the junk and/or processed foods and bringing in all whole foods. If it's in the house we'll eat it, so bye bye.
Foods that are high in sugar, very rich, and ones that may irritate the GI system get cut out. Sensitive stomachs need to be babied, especially around race day.
Cocktails disappear for my triathlete, with only an occasional glass of wine enjoyed. On the other hand, I have no such restriction and in fact, race season may prompt the need for more cocktails.
Most important, we do not go cold turkey or give it all up. Instead, we just start eating the way we should be eating and remember to allow the occasional splurge.
We also cut back on how often we eat out and think more about meal planning or at least planning menus. We eat and prepare more food, like lunches, at home.
Nothing is extreme, because little actions can make a big difference.
Plan Date Nights and Family Time
This is often the hardest thing to remember to do. We find that once triathletes get back in the groove, that is it. The mindset is all or nothing for training. Early to bed and early to rise, work, eat, train, and, of course repeat.
Before off-season ends, be sure to commit to date nights and family time. Book at least 2 non-triathlon short getaways. Decide now which day on the weekend will be a non-training day and make it your family fun day. Then, most importantly, plan your date night for each week. During the training and race season, we plan these for week nights so there is no stress. On the day that is a day off or a one workout day, usually a Thursday for us, we commit to doing something as a couple.
Get a Training Schedule and Stick to it
Just make it happen. Having a triathlete in the family is a lot of stress for everyone! It takes so much commitment. But if you have a plan and everyone knows what to expect, it is a lot easier. If you know swim days are Monday, Wednesday, and Friday mornings, then the family can expect you to say, be home for breakfast after you are finished. But a change can throw everyone off and lead to resentment.
Yes, triathletes and their families need to be flexible with training often due to the weather or family or work changes, but a triathlete should try to be consistent AND considerate with their schedule for everyone who lives with them.
Communicate
This is the single most important factor in any triathlon family and not just for the triathlete. The family must be open and honest as to what is working and what is not.
This is especially important for planning the race and training schedule. Then, the triathlete must be clear in schedule changes and let everyone know as soon as possible. The more you all know, the more you can make changes to work together to make training and race season successful.
You need to be clear on both sides. The triathlete must be clear as to their needs for time and the family must express what their priorities are. For example, if a century ride twice a month is needed starting at a certain time, but it is soccer season, a family must communicate so that the ride is worked in around the soccer games.
Each member, kids included, must feel free to express their happiness AND frustrations! We cannot express enough how important communication is. We believe that over communicating is not a thing when it comes to triathlon training and racing.
Plan Race Season Together
Planning a race season together is a win-win for everyone. Look at all the races, including local events in different cities before putting together your calendar. Pick ones that are both good for the triathlete and in locations fun for the family. Plan the races during times that the whole family can enjoy going and there will be less stress in planning the race weekend. Also, remember that a B race is a B race and a training race is a training race. Plan those A races and be clear to all about the time commitment that will be involved so expectations are known.
It is hard to believe it is this time again, but it is. Set your entire family up for success and let everyone actually enjoy the triathlon season.

Sherry is one of the TriWivesClub and LifeDoneWell co-founders and contributes to multiple blogs. She is a former co-owner of the California Apparel News and had a career in the healthcare industry. Her passions include traveling, real food, the environment, and animal rescue/welfare. She lives a healthy lifestyle and has been a vegetarian since 1987. She and her husband are parents to two rescue pups and reside in Connecticut.